Safety you can Trust
Outdoor areas are meant to be enjoyed. UNEX balustrades provide occupants with a safe and functional environment that you can trust, while also enhancing the beauty and value of the property.
Compliance made easy
UNEX takes the pain out of the compliance process for specifiers, architects and developers by providing pre-engineered balustrade solutions. From fixture to rail, we offer pre-compliant, complete solutions for any build.
Safety with a View
UNEX has a strong tradition of engineering, design and bespoke support. For more than for decades, our family business has set the New Zealand standard for balustrade performance, supply and technical innovation
We are your trusted partner in creating beautiful, secure living spaces.
Reliability meets elegance in our industry-leading range of balustrades, safety barriers, screens and pool surrounds, suitable for any residential home, school building, apartment block, sports stadium or major architectural development.
Timeless simplicity at an affordable price, our aluminium Framed Balustrades provide strong, reliable and durable barriers.
UNEX's Framed Glass Balustrades maintain structural integrity while providing outdoor-loving Kiwis with unobstructed views.
A popular solution for pool fencing and multi-unit developments, offering the perfect compromise between affordability and visibility.
Pre-engineered to ensure each span of glass is safe and secure, while accommodating those views that are just too picturesque to miss.
Ultimate peace of mind for public and crowded spaces, UNEX's Extreme Barriers range is available in both framed baluster and framed glass options.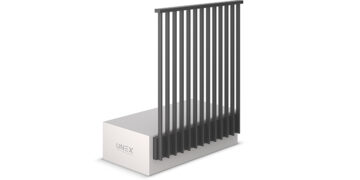 The ultimate in minimalist urban styling and a popular choice for design excellence matched by unparalleled performance.
Any one of our styles can be suitable for pool or spa fencing, providing they are installed in accordance with pool fence regulations.
Our range of Bespoke Aluminium or Glass Privacy Screens offers tailored solutions that perfectly fit any residential or commercial space.
Need a Producer Statement (PS1) or Site-Specific Design for Council Approval?
You can easily download a Council approved Producer Statement for our standard balustrade styles and/or fixing details directly from our website. If the balustrade style and/or fixing detail is outside the scope of a standard detail, our Engineering and Design teams can assist with a custom design.
Wherever you may be in New Zealand, we are here to help you.
With a range of durable, pre-compliant, end-to-end architectural barrier solutions for projects of all scales – and support by our network of Authorised Fabricators – UNEX removes the pain of compliance and brings peace of mind and beauty to even the most challenging of builds.
To inquire about our products or services, please fill in the form below or call us at 0800 333 777.
Alternatively, you can click on the link below to request a quote, and we will be in touch as soon as possible.
Discover the design breakthroughs that turned a multi-residential project in Riccarton, Christchurch into a safe and stunning architectural masterpiece. Introduction: In the heart of Riccarton, Christchurch, the Kainga Ora Riccarton Rd Project was poised to revolutionize multi-residential living. With 15 one-bedroom units and 5 one-bedroom units with carer facilities, this three-story project held the promise …
When the project was presented to Viewtec, an authorised UNEX fabricator based in Wanaka, their immediate recommendation was the Siena framed glass balustrades. These elegant balustrades, characterized by a signature 3-sided frame and full-pane glass, offered a sophisticated touch to the home's exterior while providing unobstructed views and welcoming natural light into the living spaces. …
For the design team at Ockham Residential, it was crucial to find high-quality balustrade options that would not only enhance the building's aesthetics but also preserve the unobstructed views that make Aalto so special. Introduction: Nestled in the heart of the sought-after Morningside neighborhood, Aalto stands as a bespoke boutique project that epitomizes sustainable living …
Todd Myers, a designer who worked on the large-scale project, discusses how the cassette-style balcony and balustrading system enhanced this Waikato development. On the highest point in the picturesque town of Cambridge on the Waikato River sits Lauriston Park, a brand new retirement community. Looking out towards the surrounding farmland and the Pirongia and Te …
Choosing UNEX was an easy choice for the architect team. With their signature approach to design and well-known reputation in the industry, they were a top consideration from the start for this high-end project.
UNEX, which is a well-known provider of visually appealing, high-quality products that are durable and exceptionally efficient, was an easy choice as a design partner for this task.