UNEX is a second-generation family owned company that has been setting standards for performance, supply and technical innovation in the construction of aluminium balustrades for over 40 years, throughout New Zealand. UNEX operates with sustainable principles in mind to be as efficient and reliable as possible providing specifiers, architects and developers with compliant pre-engineered balustrade systems.

Combined with a strong tradition of engineering design and support the company has become an industry leader enabling it to deliver solutions beyond the conventional for even the most challenging projects. From fixture to rail, UNEX can offer a complete solution.
UNEX's Framed Baluster category is the most economic choice and one of the core styles for the company.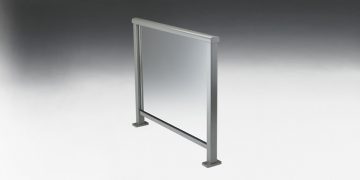 The Framed Glass category of balustrades are similar to framed but replace the aluminium baluster infills with toughened glass panels.
Semi-frameless balustrades provide a sleek, stylish style with slim lines whereby the glass infill panels are recessed into each post.
UNEX Frameless Glass Balustrades are highly engineered to ensure that each span of glass is securely clamped to allow for transparent views.
UNEX Extreme Barriers are specifically engineered to comply with the extremely heavy liveload classes "C1/C2", "D" or "C5".
UNEX Postless Balustrades has a continuous row of thin "fins" giving this system a very modern and slim profile.
This year, UNEX is celebrating four decades in business. We couldn't have reached this milestone without the support of our employees and the trust of our customers. Taking a look back at the past reminds us just how far we've come. Alan Thomas originally established the business in 1981 as the Aluminium Balustrading Company, beginning …
UNEX has once again been aligned with award-winning architecture for the 8th year running! A project where architects have chosen UNEX products has been named alongside award-winning architecture, and even during a year where COVID hit, UNEX has once again been aligned with award-winning architecture for the 8th year running! Featured in ArchitectureNow 2021 Canterbury Architecture Awards …
New national hockey centre takes safety to the extreme! When designing sporting facilities, along with accommodating the needs of the sport or sports that will be using them, the paramount concern is spectator safety, with stringent laws being enacted following a number of preventable tragedies at international sporting arenas in the latter half of the 1980s. …
Design, Specification, Fabrication and Installation
Contact UNEX today for an obligation free quote.
The glass balustrades look fantastic but what really impressed me was the effort and attitude UNEX brought to the project.
All I can say is great. Why are others not this easy? You are industry leaders with your info & products!
EziSpec is an absolutely brilliant system - LOVE IT! Making getting a PS1 so easy.
The prompt and professional service will ensure I keep specifying UNEX products!
Thanks for the details and drawings. They are exactly what we needed, and quick too!
I can rely on UNEX, I can trust lead times given, and can never remember a time where we've been let down.
Quickly need assembly specifications or a PS1?
What about a fully detailed list of materials, components, cutting sheets, balustrade layout, 3D render, and price quotation? UNEX wants to make the job of specification and fabrication as easy as possible. Our Ezisuite of programs helps roughly price up and design any UNEX balustrade system you want to use.
Just need a PS1 and assembly specifications and fixing drawings? Then use Ezispec.
Want online quoting and material calculation complete with cutting dimensions? Then use Ezirail.
Specify our products today